It is with great sadness that I share with you the loss of Bergamot Fury. He has gone ahead on his journey. His beautiful heart gave out and he passed in our arms. Our lives will never be the same without him.

After all the health challenges he has been through over the years, a heart issue presented itself out of nowhere. He was such a trooper through each issue that he conquered, we can only take comfort in the fact that this heart issue did not cause him any pain.
Although we are lost without our little Beef, we were so very lucky to have had him in our lives. He was a force, our muse and a personality that filled our lives. We are sure that wherever he is, he has moved on to inspire others. He will never be forgotten and we look forward to the day we are reunited. Until then, he will live on in our hearts & memories.
Thank you for sharing him with us all these years. We hope that he brought you joy & inspiration, too. He will always grace the pages of LittleBeasts.com and we will continue to include him as he is always in our hearts.
These are photos of Beefy taken over the last few days he spent with us. He enjoyed a lovely, sunny weekend which he spent outside laying in the sunshine & then the shade & then the sunshine...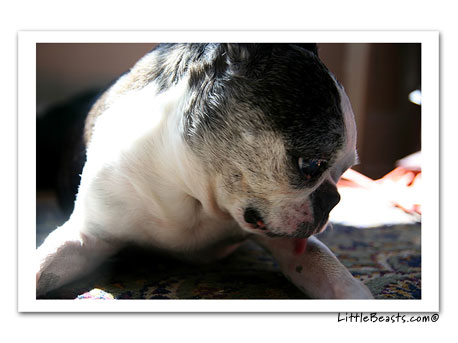 Please visit the Beasts page and the Photo Album pages to remember & enjoy some of our favorite photos. We have added a new gallery of photos from 2008 on the Beasts page.
Thank you to everyone for your emails & support. Boston Terrier people are a wonderful community.
~The LittleBeasts Team