The Winning Caption is:
You think your Chalk Dragon is pretty amazing, don't you? Well... I just rolled on it.
I don't always color, but when I do I stay in the lines.
I don't know what that thing is but I hate it.
Can't...let that thing lick me again...
You can't take a nap around these kids!
My forcefield protects me from fire-breathing chalk monsters.
You won this round Chalk Monster. But I'm going to go drink a full bowl of water and then we'll see who gets the last laugh!
Chalk Dragon: 1 Charlie: 0
It licked me.
It's all fun and games until the Boston gets Chalked!
What were you expecting...Picasso..you try holding chalk without thumbs
Charlie sat covered in chalk face flush with anger
On the Official Stink Eye Scale of One To Ten... this right here is a Major Ten.
The crazy mural guy decided to do "living art." I decided to do stink eye.
Pablo is better known for his abstracts
Everybody's a critic....
Charlie is kicking himself for being the first to fall asleep at the party, finding himself with full makeup in the morning.
Charlie: You win this time Sidewalk Chalk Dragon, but know I've got my stink eye on you!
Hey pink is my color...is there a problem?
Hottest new artist...Chalkin' Charlie
"Wait..what? I was just blending the chalk lines!"
Fire Breathing Chalk Dragon - 1. Charlie - O.
"In West Philadelphia, born and raised..."
I tried to slay the beast, but the beast won!
Oh... you think it's funny I've got that pink chalk on me? After I drink enough water, I'll be "washing" that sidewalk off.
This amuses you? You draw on the sidewalk, draw on me... then expect me to do a trick? I think not.
"Is that the dragon or am I the dragon?"
Pwease feel better for me!!
I hate little kids with sidewalk chaulk.
"You've never seen my stink-eye with bonus fire-breathing? Here, let me show you..."
You think you've got me licked?
I'm not bad...I'm just drawn that way.
Charlie thinks someone should go back to art school!
I never thought I'd say this... I've been driven this low. I actually need a bath.
He's ok, I rolled on him and he now smells like a Bosto
I've got something for the Big Bad Wolf - Big Bad Boston!
Bite me.....!
Listen Buddy, I am a Boston Terrier not a French Bulldog! Keep that thing in your mouth next time!
Did that seriously just happen? Ugh.
I'll get you for this!
Grr.. While you may have won this round chalk beast - I'll get you next time!
The green guy started it.
I hate to admit it, but even I think I need a bath. Those kids with the chalk got me good.
No. I'm not taking questions right now. The pink shall remain a mystery.
This means I need bath, doesn't it...
I've always loved makeup. Just wish I could get the blusher stuff on straight!
Come on I need some peace dragula
Pink cheeks is better than a green bottom
Go ahead... laugh at my expense. Wait until you see the package I left on your lawn.
Bath time, yuck!
Seriously, that is the last play date you are ever arranging for me...
"Sorry, I don't do autographs"
Oh No I got attacked by the giant chalk monster!!
Darn kids and there street art!
Picasso was better known for his abstracts.
No hiding this!
Outstanding Captions Based on the Previous POTWeek Photo - (the PPP)
Yeah, you prolly think Molly got in the milk, too!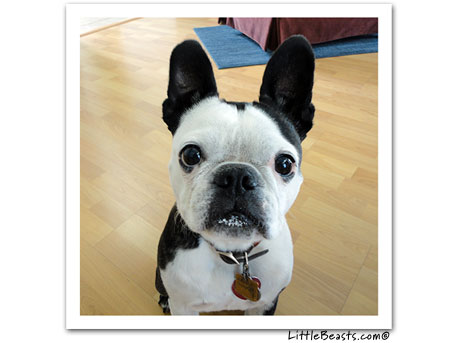 Previous Photo of the Week Star: Molly
Comments: