The Winning Caption is:
Practicing Advanced Photo Bombing
It didn't take it, ya gotta set the timer like......*SNAP*
When Yoyo is in trouble, this outlook changes all the frowns into big smiles!
Yoyo has reached a turning point in his life.
Did anyone get the name of that cat?
Look at it this way and the bowl IS half empty!
What happens to you is not as important as how you look at it.
These Whitening Strips really work!
Ahhh there's the rub
Yoyo takes playing dead very, very seriously.
Yoyo exhibits the very Boston "Flappy Jowl".
Damn, it's been a week and it's still there.....MOM!!!!
seeing how the world looks up side down Yoyo keeps one eye on grownd and one one you.
"I'm Batdog"
This is how Yoyo unwinds...
What? I have something in my nose?
Teeth whiteners? I haven't seen no teeth whiteners!
Oh, so this is how bats live!
Hey baby...check out these pearly whites!
why uz upside downz?
YoYo demonstrates "Turn that frown upside down!"
Can anyone tell me where I left my body?
"look at my pearly white teeth"
I hate going to the dentist, because they always go overboard with the novacaine. MY EYE MY EYE I CAN'T FEEL MY LEFT EYE!
Yoyo was not looking forward to going to the eye doctor to have his lazy eye checked.
Yoyo demonstrates his famous 'upside down dog on the sofa' trick.
Do my jowls show when I lay like this?
"All right, Mr. DeMille, I'm ready for my close-up."
Ooooy. Me thinks I ate too many kibbles.
oh yeah, I'm a party animal fer sure...
I have the whitest teeth in town!
Outstanding Captions Based on the Previous POTWeek Photo - (the PPP)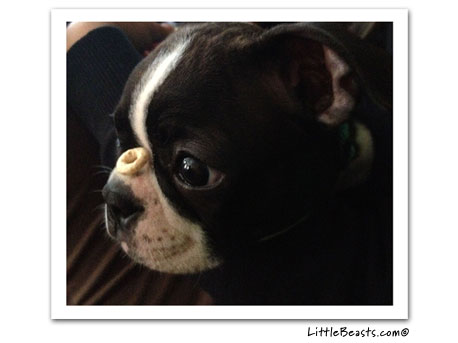 Previous Photo of the Week Star: Bruno
Comments: