The Winning Caption is:
Bowie's parade float was beautiful... until BBG ate all the decorations.
Instead of going nowhere fast, Bowie is going somewhere slow.
Hey, Mom! I need more fuel for my ride.
Are we there yet?
Bowie's election speech is a little slow this year.
Bowie knew that Buutros only needed a good push!
Vote for Bowie! He has Turtle Power!
"Hey, buddy, how do you get this car out of second gear?" Beep, beep.
Look! I don't have to get in the fast lane, and he runs on bio-fuel!
Boutros says, between bites of corn, "Bowie ain't heavy, he's my Boston".
Doesn't this thing go any faster?!?!?!?
Move over Lance Armstrong - I'm comin' through!
Faster I said, we have to beat that rabbit!
Puff! Puff! Look, mom, what I finally ran down. Can I keep it?
Slow & Steady wins the race.
Pimp my Ride
"Okay, BBG.. back to the house. It's time for a nap."
It appears that the Hare was finally able to fix the race against the Tortoise.......
I'm King of the World!!!!!
Onward, my mighty steed!!!
That's the last time i leave him with the corn.
Giddee up!
"I, Bowie pledge allegiance, to the tortoise, err I mean flag.......
Dude, this CAN'T be the express bus!
Crud, I'm going to need another corn and stick set up if I'm going to make it back to the porch...
We demand Corn! Lots of Corn!
Well... The Lone Ranger had Silver & Tonto. Roy Rogers had Trigger & Dale Evans. I have my ride, now all I need is a sidekick!
Now that BBG isn't leading the UN, he has plenty of time to take Bowie for a joy ride.
Nothing but turtles, all the way down!
The hare is a piker.
Mush, mush. We must make the border by sundown!!!
Bowie is Grand Marshall in the New Years Day Rose Parade for 2013. This is just a practice run.
Bowie wonders if this is what Mick Jagger had in mind with "Beast of Burden".
What turtle?
Can't wait for the fireworks show to start!
Now that Bowie has his driver's license, he's going cruising!
Bowie explains the O'Boston Care Plan.
I captured the beast!
Bowie, King of the Mountain
"I'm leavin' on a jet plane.." Uh.. wrong song. "While riding in my Cadillac..." No, that won't do. Oh, never mind.
Bowie stands tall and proud as he takes his victory lap after the race against the Chihuahua on his Hare.
What do you mean by the phrase "Express Lane"?
I'd sure like to have my ride kidnapped for a Chip Foose Overhaul!
I've been Punk'd, right? Now, where's my BMW instead of this BBG?
See! Slow and steady wins the race.
turtle surfin' corndog!
You know it's been a good Labor Day weekend when...
Outstanding Captions Based on the Previous POTWeek Photo - (the PPP)
I asked for a shopping cart like Ty & Lulu... Look what I got!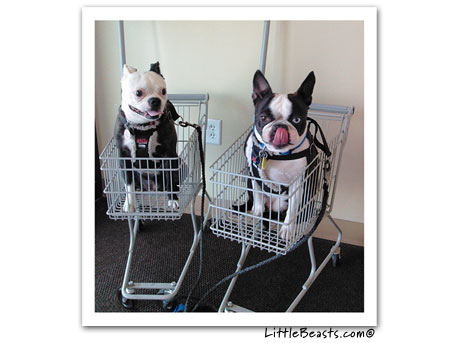 Previous Photo of the Week Stars: Ty & Lulu
Comments: